Boomette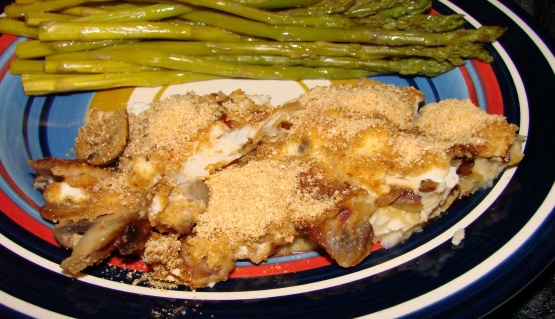 This is a Hungarian recipe called Betyar Fogas. This recipe is from recipegoldmine.

I was a little doubtful about this recipe, but fortunately I went ahead and made it. I doubled the amount of mushrooms, and added two chopped green peppers, as I wanted to use them up. Added 2 minced garlic cloves, Used Greek (strained) yogurt, as we don't have sour cream where I live. Other than that, followed the recipe and was very happy with the final dish. The only thing I would change would be to use a pan which just holds the fish fillets - mine was a little spread out, even with the extra veggies, which therefore stuck a little at the edges of the pan . I will certainly make this again - it was quite easy - only the prep of the veggies was a little time consuming.
If fish fillets are large, cut into serving pcs.
Pat fish dry.
Arrange in ungreased 12 x 7&1/2in baking dish.
Cook and stir mushrooms and onion in butter until mushrooms are golden, about 3 minutes.
Spoon mushrooms mixture over fish; sprinkle with salt and pepper.
Mix sour cream and cheese.
Spread over mushroom mixture.
Sprinkle with bread crumbs.
Bake ucovered at 350 degrees F until fish flakes easily with fork, 25 to 30 minutes.
Sprinkle with paprika and parsley.