Asha1126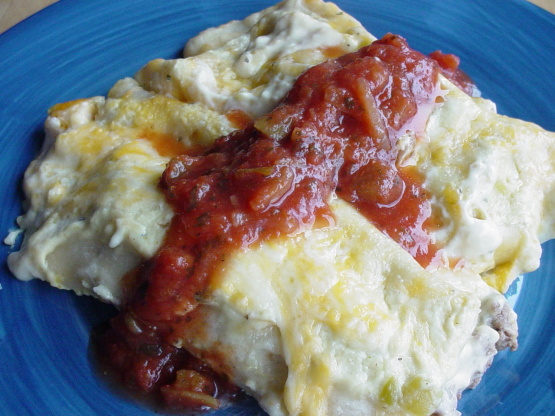 Even a Northerner will like this recipe. Very easy, filling and everyone comes back for more. First Mexican food I tasted in Tucson.

Ditto what AshaK said!I did use gd beef and had to sub the verde soup/I just used Cream of Mushroom. This makes a ton, and leftovers are great:)-thnks!PeggyLynn
Brown ground chuck well ,drain.
Add the onion and cook until onion is tender.
Add the salt, pepper, and garlic powder.
Mix soups, sour cream, and milk well. Add the green chilies.
Warm tortillas in microwave in 2 batches of 5 each wrapped in paper towel for 45 seconds.
Spoon 1/3 cup hamburger mixture in center of tortilla; top with 2 tablespoons cheese and 2tablespoons sour cream sauce.
Fold in sides, then roll the tortilla from the top down; continue with all the tortillas.
Put 1 cup sour cream sauce in bottom of 13x9 inch pan.
Place rolled tortillas on top of the sauce.
Pour rest of the sauce over all, then sprinkle cheese on top.
Cover with tin foil and bake for 1 hour at 350 degree oven, uncover and bake 10 minutes more.