Sour Cream Enchilada Casserole
lvt96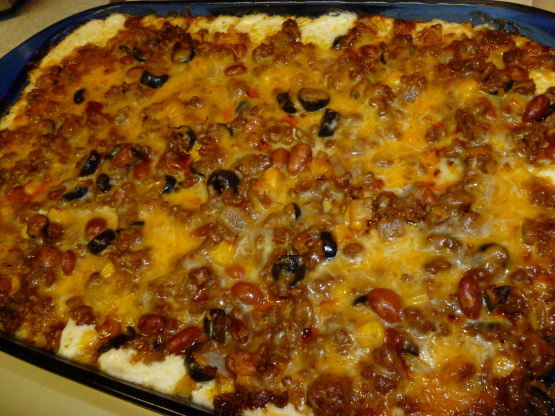 This dish takes a little extra time to prepare, but is well worth the time it takes.

Wow...I've been making this for years and my original recipe that I clipped out of Southern Living magazine is literally falling apart and disintegrating...so I did a search and here it is! Same exact one...my sons go wild over this! Am making it tonight but for only 2 of us, I've lightened it up with ground turkey and basically cut the recipe in half and I bake in a 9x9x2 inch pan, works great! Will reprint this now and put it in a protective sleeve...my other original one was just taped into my "keeper" 3 ring binder...thanks so much!
In large, shallow dish, mix water and 2 Tablespoons picante sauce.
Place tortillas in mixture for 5 minutes, then drain.
Brown ground beef and onion in heavy skillet, then drain.
Stir in salt, pepper, cumin, chili powder, garlic powder, olives, and 1/4 cup picante sauce.
Simmer meat mixture for 5 minutes.
In heavy saucepan, melt butter over low heat.
Add flour, stirring until smooth.
Cook 1 minute, stirring constantly.
Gradually stir in milk.
Cook over medium heat, stirring constantly, until bubbly and thickened.
Remove from heat and add sour cream, stirring until well blended.
Place 1/2 of tortillas in a 13 x 9 x 2 inch baking dish.
Pour 1/2 of sour cream mixture over tortillas.
Spoon 1/2 of meat mixture evenly over sauce.
Sprinkle 1/2 of cheese over meat mixture.
Repeat layers with other half of ingredients.
Bake in pre-heated 375 degree oven for 25 minutes.