Sour Cream Dip / Dressing for Vegetables
Rita1652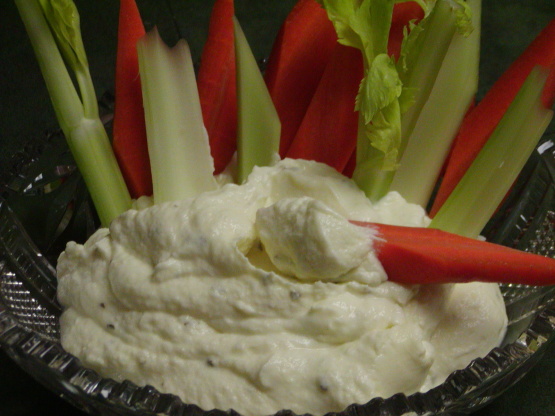 Very very good,especially if you like tarragon. Serve as a dip with a raw veggie tray or as a sauce on cooked vegetables as a side dish.

I `m eating celery and carrots dipped into this recipe as I post this review. This has a nice refreshing tang to it! It light and airy! Please take note this is a dip so the Calculated Nutrition Facts is for 1 cup. I would think it `s more like 1/8 cup per serving if that. So it `s really not so bad. I used fresh garden tarragon. I cooked this for 6 minutes before I refrigerated it. It does thicken up some as it cools. This recipe has many ways to go. You can use basil, dill, cilantro or whatever you favor in place of the tarragon. As for the mustard it can be honey to horseradish. And I even wonder about using yogurt in place of the sour cream to give it a more healthy result. Oh! You will see recipes popping up based on this. I can `t wait to try a couple of versions I have in mind! Thanks eebrag!
Combine all ingredients in saucepan.
Cook over medium heat, stirring constantly, until smooth and thickened.
Chill.