Sour Cream Cookies W/ Burnt Butter Icing
Tina7836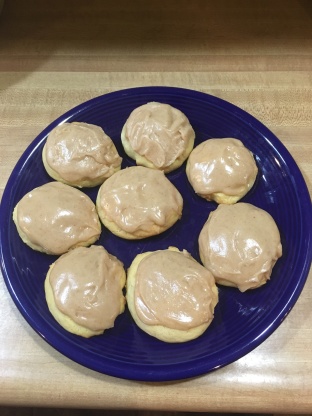 This is a cookie recipe that has been in my family for generations. I guarantee that you can't eat only one. Very addictive!

YUM!!! I've never made sour cream cookies before and this recipe is definitely a keeper! Next time I will take Tina's advice and double the icing, I ran out at the end. They are so easy to make festive, add food coloring, or add some adornments to the icing. My one piece of advice is to add your adornments (sprinkles, jimmies, glittery balls, etc.) while the icing is still somewhat soft, then press it into the icing with your fingers so it sticks to the icing when it hardens. Thanks for this recipe, I loved it!
Mix together:.
Shortening, granular sugar & eggs.
Stir in:.
Sour cream and vanilla.
Sift together & stir in: (an electric mixer may be used).
Flour, soda, baing powder and salt until well mixed.
Chill in refridgerator for at least 1 hour.
Drop rounded spoonfuls about 2" apart on parchment paper lined cookie sheets (trust me, this is crucial) Bake in preheated oven at 400 degrees for 8-10 minutes or, when touched lightly with finger, almost no imprint remains.
Icing: (Icing lovers may want to double, I recomend it!).
While cookies are cooling, melt butter and boil until golden brown, but not dark brown!
Remove from stovetop.
Blend in powdered sugar gradually.
Stir in vanilla and 1-2 tbsp of hot tap water until icing is smooth and creamy looking. Spread on cookies with butter knife.
**You may want to use different food colorings to suit the holiday/occation**.