LAURIE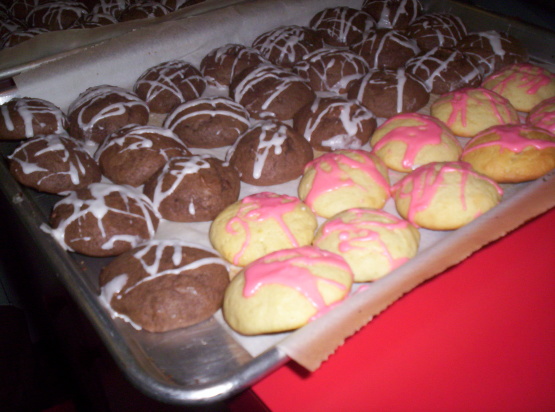 These are rich and moist cake-like cookies. Frost with your favorite buttercream frosting. This is a large recipe that can be easily reduced. Batter must be chilled overnight. Cook time does not include chill time.

Top Review by LAURIE
I had a weekend of cooking and made some wonderful recipes but this one stood out! akgrown I have been baking for 45 years and these are probably some of the best cookies I have ever made...and I bake weekly! I made the full recipe but divided the dough in half. One I baked as stated using my 1TBS cooky scoop. I got 48 cookies. The other I added about 3/4 cup cocoa powder to and baked as directed and got 49 cookies. I made a light buttery glaze to drizzle over them, vanilla for the chocolate and a pink with almond flavor for the vanilla. Do not over bake these once they are just slightly brown on the under edge take them out and cook slightly on the sheets. I let them cool directly on the counter and I loved them soft. The few I cooled on the rack did get slightly drier. I also stored them airtight with a slice of bread. Four days later the very few that are left are still soft. They have such a great consistancy and flavor that I think a heavy frosting would take away from them. Thanks for a cookie that I will make many many times!
Cream butter and sugar together.
Add rest of ingredients; mix well.
Chill overnight. At least 6-8 hours.
Drop by spoonfuls on a greased baking sheet. Bake at 400°F for 8-10 minutes or until rim is lightly browned. Do not over bake.
Cool and frost with you favorite buttercream frosting. Try chocolate, lemon, or orange buttercream for a variation.