Bayhill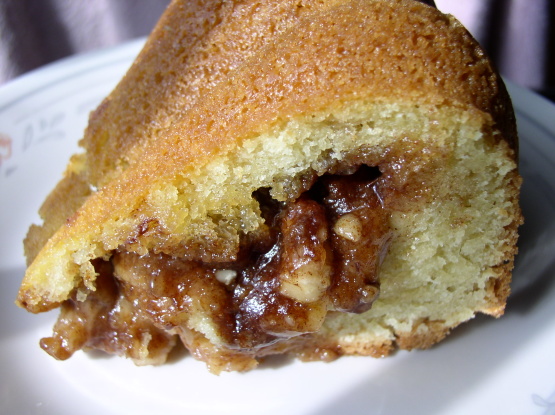 Original name is Jewish Coffee Cake but I am not sure why. This is such an incredible breakfast/brunch coffee cake.
This coffeecake was delicious! The only problem I had with it was when inverting cake onto a plate, the filling ran out and the cake collapsed in the center. The recipe doesn't state any instructions on cooling the cake, but next time I would let the cake cool completely in the pan before tuning out onto a plate in hopes that the filling would firm up enough to prevent it from running out. Also, even though the cake tested done with a toothpick after an hour of baking, the cake batter around the filling was still a little bit underdone. I would probably cook it an extra 5-10 minutes. My family did love it and I will definitely be making it again. Thank you for another delicious PAC recipe.
Sift dry cake ingredients, set aside.
Beat sugar, margarine, eggs, vanilla in large bowl.
Add dry misture and sour cream to mix. Beat well.
Mix all filling ingredients in separate bowl.
Pour half of cake batter into greased tub pan, top with half of filling, repeat.
Bake at 350 degrees for 1 hour.