Sour Cream Cinnamon Vanilla Bread, Abm
loof751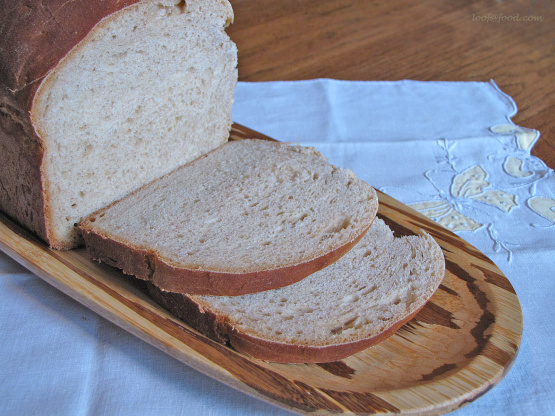 This is a scrumptious sweet bread that is very fitting for any holiday breakfast or just when you want something special. This also works with Splenda in place of the sugar. Baking time is however long your machine takes. *EDIT*: On Jan 22 2009, I reduced the flour amount by a 1/2 cup and increased the sour cream from 1/3 to 1/2 cup. This will improve the workablity of the recipe. Thank you reviewers.

What a lovely and delightful loaf of bread! I made the dough in my stand mixer and baked in the oven; I did not use the optional raisins. My dough seemed a little sticky so I added back the additional 1/2 cup of flour and that did the trick. I let the dough rise for 1 hour in the oven (off), covered and next to a bowl of hot water. After this rise I flattened it into a 9x10" rectangle, rolled it up, and put it in a greased loaf pan. I left it to rise in the oven the same way for another hour. Baked at 400 degrees for 10 minutes, then lowered to 350 degrees for 30 minutes. The result was a beautiful, light, soft loaf of sweet bread, perfect for buttered toast or just eating plain. Loved this - thanks for sharing a keeper!
Measure all ingredients carefully and place into bread machine pan in the order recommended by manufacturer.
Select Sweet or Basic/White cycle.
Use Light crust color.
Do not use the delay cycle.
Remove bread from pan when baking is completed, and cool on wire rack.