Sour Cream Chocolate Chip Coffee Cake
rcm1948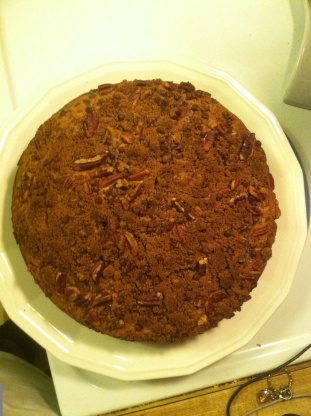 This is a delicious coffee cake. Recipe given to me by a friend

I was looking for a coffee cake recipe to bring to a friend's get-together, and I stumbled upon this one. I'm glad I did! It was very easy to make, and the result was a nicely moist and flavorful confection. Of the 3 cakes sitting on the table, this one was the most eaten. I am saving it, and it will be my go-to recipe whenever I need to make a coffee cake.
.Cuream butter and sugar.
Beat in eggs, one at a time.
Sift flour, baking powder, soda and salt together.
Add dry ingredients, alternating with sour cream.
Beat in vanilla.
Stir in chocolate chips.
Mix tlast three ingredients together to make topping.
Spread 1/2 batter into a greased and floured 10 inch tube pan. Sprinkle withy 1/2 topping.
Repeat.
Bake at 375 for 35 to 45 minutes.