flower7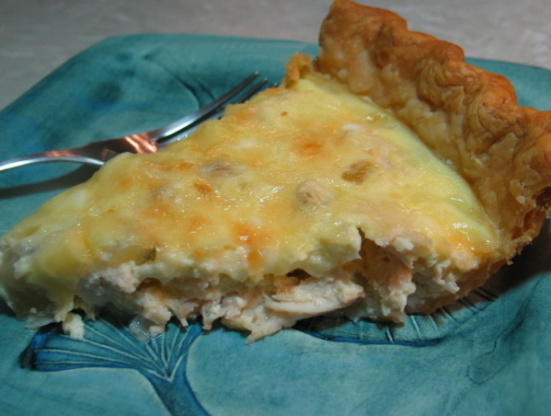 This is a simple recipe that looks like you spent a lot of time on it. This recipe makes TWO tarts (9-inch pie plates). I've made this once for friends, and it was creamy & delicious, full of flavor. It's sort of quiche-like, but I found it more full-bodied and not as "eggy." Served with a spinach salad & artichoke dip with pita toasts. Yum. I also think this would be good with mushrooms added, or artichokes.

This is so very good! It is true that it doesn't make quite as much filling as I might like, but what it makes is scrumptious! I made my own pie crust, used leftover grilled chicken, turkey bacon, yellow onion, and about half as much green chilies as called for. I subbed low-fat colby-monterey jack cheese for the swiss and cheddar, and used low fat sour cream and 1% milk. Keep an eye on it and don't bake too long. Every delicious bite disappeared!
Preheat oven to 400 degrees.
(If using pie shells in foil pans, place baking sheet in preheating oven.).
In medium saucepan, fry bacon until almost crisp.
Add onion and saute, stirring, about 1 minute.
Stir in chopped chicken, green chilies and salt.
Cook 2 minutes, stirring well.
Take off heat, drain any excess drippings& set aside.
Divide bacon/chicken mixture and spread evenly between pie shells.
Mix cheese together, and spread over bacon/chicken mixture.
In small mixing bowl, whisk 1/3 cup sour cream with 2 of the eggs, one at a time.
Add 1/3 cup milk; whisk.
Pour mixture over one pie pan.
Repeat sour cream-egg-milk mixture for 2nd pie pan.
(If using foil pie pans, place tarts on heated metal baking sheet.) Place in oven and bake 20 minutes.
After 20 minutes, reduce heat to 350 degrees, and bake an additional 25 minutes.
Remove from oven and let stand 5 minutes before slicing.
Each tart yields 6 small slices.