Sour Cream Blueberry Muffins
Debi9400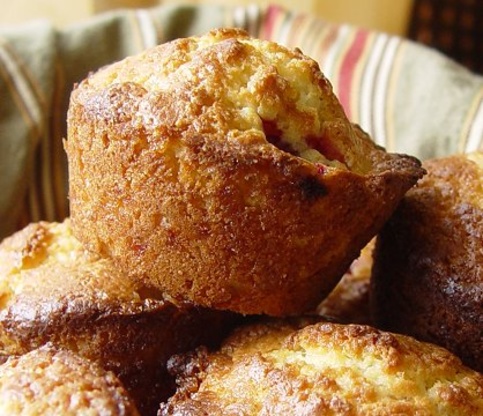 Delicious, and easy! Done in about 30-35 minutes, from start to finish. My friends & family's favorite muffins! Yields 24, and supposed to serve 24, but who can eat just one? REVISION: I have changed the recipe slightly, 2 cups sour cream, 2 1/2 cups flour, everything else the same -- DELISH! These are best right from the oven, but if you eat them the next day, then they are heavier, and less cake-y, more dense and moist. ANYTIME is a good time for these, I have gotten my friends hooked,lol!

I made this recipe for (PAC) Pick~A~Chef Fall 2007. I love blueberry muffins, but I had never made them from scratch. They turn out wonderful, looked and tasted great. Mine were done in 15 minutes.
Preheat oven to 450 degrees.
Prepare 2 regular dozen (totalling 24 muffins) muffin tins with non-stick butter flavored (or regular, if you do not have any) cooking spray-if you use paper liners, spray them as well, since they will stick to paper when first made, but be fine later without spraying with oil.(if you use the revised version, skip the spraying oil step, you don't need it).
Cream by hand together butter and sugar until light and fluffy.
Add flour, baking soda, nutmeg and salt, not beating just mix lightly-lumps are ok.The less you beat, the lighter and fluffier they are.
Add eggs and sour cream.
Fold in blueberries.
Fill muffin tins with batter, I use two spoons, it is thick!
Sprinkle a small amount of sugar on each muffin before baking, makes a nice crunchy part.
Bake @ 450 for 20-25 minutes or until a toothpick comes out clean when inserted.
Remove from pan immediately, and cool on wire rack.
Enjoy your muffins, but be careful, they are very hot and especially the blueberries!
HOT TIP: The night before I make these, I leave the butter out in the bowl (covered of course!) I will use to combine ingredients. The butter is exceptionally soft and easy to work with this way. Not necessary, but a helpful hint.If you do not, at least let it get room temperature.