Sour Cream Beef Enchiladas
ChefLee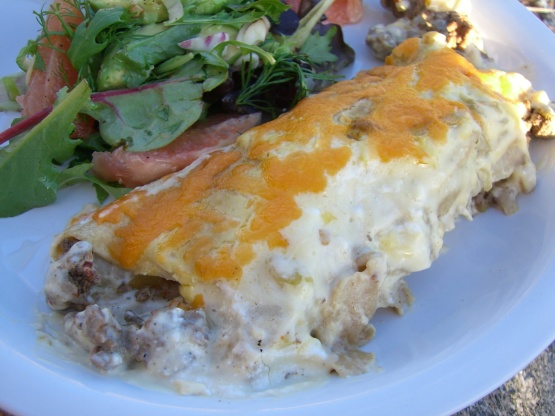 I got this recipe from a high school friend's mother, and these are THE BEST enchiladas. They are definitely not good for you, but who cares--they taste AWESOME. A favorite with my kids.

Just made this tonight. These came out delicious and the best part was my little ones ate two plates. I paired these with a garlic, butter rice and a spicy sweet potato side. Definately put on our monthly meal planner..
Brown meat, then drain grease.
Add taco seasoning and ½ green chilies.
Combine sour cream, soup, and other ½ chilies in a saucepan and heat through.
Pour enough soup mixture into a 9 x 13" pan to coat bottom.
Heat tortillas 30 seconds in the microwave.
Fill tortillas with meat mix, wrap, and place in pan.
Pour the rest of the soup mixture over the top of tortilla wraps and sprinkle with cheese.
Bake at 350 degrees; for 35-40 minutes, or until cheese is melted and soup is bubbling on the sides.
Serve with salsa, if desired.