Sour Cream Banana Muffins
Annacia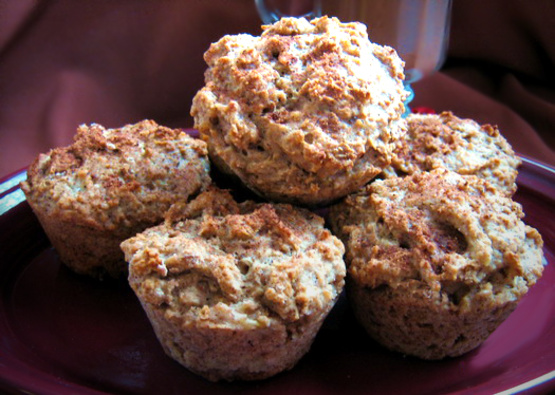 A lovely recipe, developed by me, tonight in my kitchen! A touch of ground cinnamon and fresh nutmeg add a zesty flavor to this new twist on a classic favorite.

I trimmed the fat back by using i/2 the ask for amount of trans and sat fat free margarine and making up the difference with unsweetened applesauce and using fat free sour cream. While the texture is moist and fluffy, to be honest, I would have enjoyed this recipe more with some Splenda added. A single tbsp would likely be enough and this is personal preference only. The recipe works beautifully.
Preheat oven to 375 degrees.
Soften butter or margarine to almost melted state, add peeled bananas and mash together.
Add sour cream, stirring together.
Add wheat germ, flour, baking powder, baking soda, salt,grated nutmeg, cinnamon and eggs.
Stir until well blended.
Place into lined or greased muffin tins. I used 24 regular sized (2 pans) and 12 small (1 pan holding 12 muffins)for a total of three pans.
Place into oven, two large muffin pans together on one rack, and one small muffin pan on rack alone.
Bake for 20-24 minutes, depending on your oven, testing with toothpick;when it comes out clean, they are done. They can be lighter on top and still be fine.
Turn unlined muffins onto rack, and remove lined muffins as well, onto rack.
Cool a little bit (be careful, don't burn your mouth!)until ready to eat.
Enjoy!