Sour Cream Banana Cake With Toffee Bar Topping
ihvhope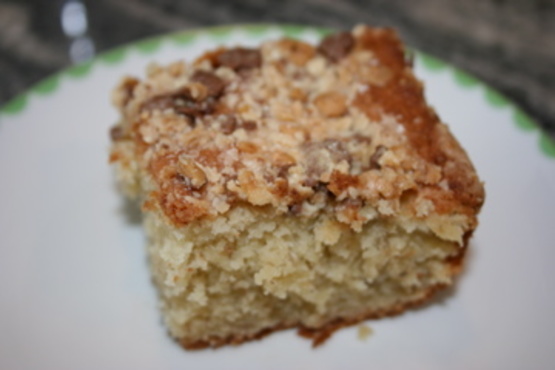 This is a tender, moist cake with a caramel topping, use caramel chips, or minced up toffee bars, such a Heath bars. If you reside in Canada and cannot find Heath bars, then one whole Crispy Crunch bar will do. If you want more topping double all topping ingredients.

Wonderful, wonderful cake!! It was so light AND moist!
I had some bananas that were too ripe to eat so decided to give this a try. Brought it to work and it was gobbled right up. Even the people who do not like "banana breads" loved it. I used Heath baking chips because it was all I had but it was still really good. Next time I will use chocolate covered bars and more butter...but it was perfect the way it was. Thank you for another great recipe!!
Set oven to 350 degrees.
Set oven rack to second-lowest position.
Grease a 13 x 9-inch baking pan.
To make topping: in a small bowl, mix together the confectioners sugar and 1/3 cup flour.
Rub the butter in the flour mix with your fingertips to make a crumb mixture.
Stir in the caramel bits, Heath bars or Crispy Crunch bars; set aside.
In a small bowl, mash (do not mix with a mixer) the bananas; set aside.
In a medium bowl, whisk the flour, baking powder, baking soda and salt; set aside.
In another bowl, with an elecric mixer (if you have a heavy-duty stand mixer attach the paddle attachment) and cream the butter and sugar very well until soft (about 6 minutes).
Add in the eggs one at a time, beating well after each addition and the vanilla.
Add in banana, sour cream, and all dry ingredients, mix on low speed for 3 minutes, scraping bowl occasionally.
Transfer to prepared baking pan.
Sprinkle the crumb topping evenly over the cake batter.
Bake for about 45-50 minutes.