Ceezie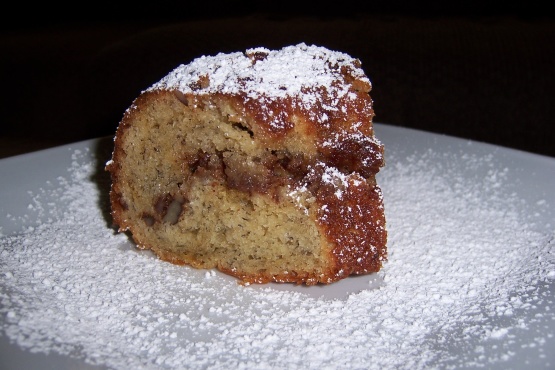 Another way to use up those old bananas.

This is one amazing recipe! I made a double batch & brought it to work. Within 30 minutes the entire cake was gone. Emails came in asking me for the recipe, with many stating it was the best coffee cake/ banana cake they ever had. It is very light, fluffy and flavorful. I put half of the nuts in the middle and half on top, covered it with foil for half the bake time, then removed the foil to let the sugar/cinnamon/nut mix on top get crunchy. I did add some extra extremely vipe bananas, too. I bake weekly and am always trying new recipes. This makes my top 10.
Preheat oven to 350°F Combine butter and 1 cup sugar in a bowl and beat with an electric mixer until light and fluffy. Add eggs one at a time, mixing thoroughly after each addition. Stir in bananas, vanilla and sour cream.
Sift flour and next 3 ingredients together in a bowl. Fold into butter mixture until just blended.
Combine nuts, cinnamon and remaining granulated sugar in another bowl. Sprinkle half of nut mixture into a buttered and floured tube or bundt pan. Add half the batter. Sprinkle with remaining nut mixture and cover with remaining batter.
Bake 45-50 minutes until a tester comes out clean when inserted in center. Invert pan and cool. Sprinkle with powdered sugar before serving.