Jollymae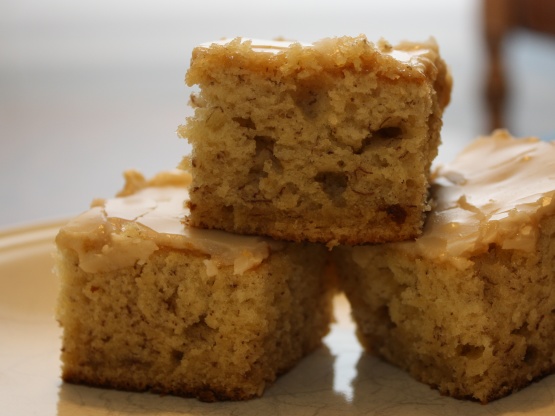 This recipe has been around FOREVER in my family. When I was growing up I don't think the pan ever had the chance to cool before they were all gone! They're sooo moist and wonderful! Note: you can make these in a 9x13 pan, they'll just be more like banana cake :) Make sure to check for "done-ness" in the center with a toothpick before removing from the oven. Top with Brown Butter Frosting Recipe

This is a real winner in my book. Made it exactly as-is. Thank you for the recipe. I can tell its going to be my go-to recipe for what to do with bananas. :-)
Grease and flour jelly roll pan.
Cream butter and sugar, add sour cream and eggs and beat for 1 minute. Add bananas and vanilla - mix well. Beat in flour, salt, and soda on medium for 1 minute. Stir in nuts if desired.
Pour and spread dough in pan.
Bake at 375 degrees for 20-25 minutes.
Let cool for 10-15 minutes, then frost with Brown Butter Frosting.