Sour Cream Apple Pancakes
diner524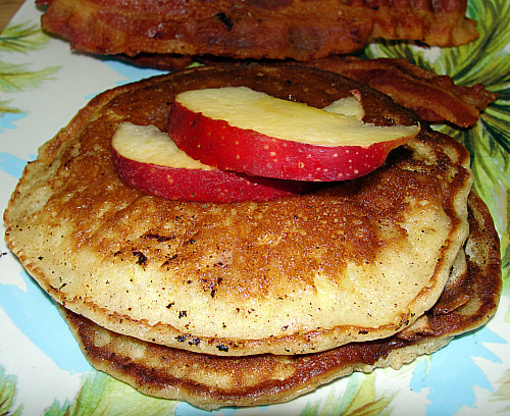 Made these this morning and they were so good. Light but tasty. Original recipe from Pampered Chef From the Heart Cookbook with some minor alterations by me.

Great pancakes that the family loved!
In a large bowl, combine flour, sugar, baking soda, salt and cinnamon.
In a medium bowl, combine apples, sour cream, egg and vanilla.
Mix well.
Add apple mixture to dry ingredients.
Stir until just blended.
Lightly grease griddle or large skillet with butter or Pam.
Heat griddle to 350-375 degrees, or heat skillet over medium heat.
Pour heaping 1/2 cup batter onto griddle and cook until bubbles form and tops look dry. (The time to cook may vary depending on how large you make your pancakes) It took mine about 10-15 minutes on each side using 350 degree).
Turn pancakes and cook until golden brown on bottom.
Serve with your favorite syrup and enjoy.