Hanka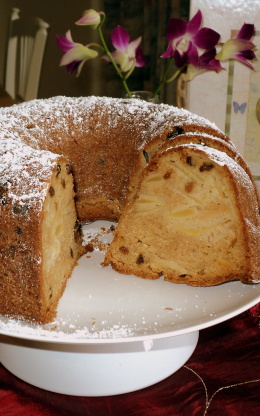 I posted this recipe in answer to a message board request. It is a family favorite that I make frequently in the Fall (when the apples are in season). I only use red delicious apples because of their flavour and because they do not get "too mushy" when baked in the cake.

This turned out to be one of the best fresh apple cakes I have ever made. I chunked my apples, rather than slice them, and dusted them with the flour mixture so they wouldn't all sink to the bottom of the pan. It baked up tall, and filled my bundt pan over the top. Not too sweet, very moist, and so impressive looking. I frosted it with Yummy Caramel Frosting from this website. I will definitely make this again soon.
In a bowl, sift together the flour, salt, cinnamon, baking soda and baking powder, and set aside.
In a small bowl, mix the brown sugar, 1/2 cup nuts and cinnamon together, and set aside (for topping).
In a large bowl, with electric mixer, beat oil and sugar together until creamy.
Add eggs and beat until mixture is fluffy.
Stir in sour cream (by hand).
Stir in flour mixture (by hand), batter will be very thick.
Add vanilla, apples and 1 cup nuts, and blend well.
Pour mixture into a buttered& floured bundt pan (or 9-inch tube pan).
Sprinkle the sugar/nut topping mixture over the top of the batter.
Bake for about 60 to 75 minutes in a preheated 350°F oven (or until toothpick inserted in center comes out clean).
Cool cake in pan, on rack for about 15 minutes.
Remove cake from pan, and finish cooling on rack.
In a small bowl, mix the powdered sugar together with enough milk to make a glaze that is thin enough to drizzle over the top of the cake (in thin squiggly strands).
When cake is completely cooled, drizzle the glaze across the top.