Sour Cream and Onion Chicken
diner524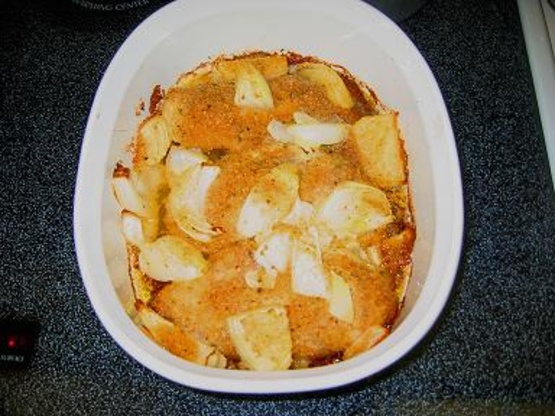 I got this recipe from a friend and it is a huge hit in our house! We make mashed potatos with this dish and pour the sauce all over it. We sometimes make more sauce to have for this dish since it is so yummy!

Top Review by Manami
Hello JackieMarie, this was so awesome! We had to make a special dinner for this resident and this is what she asked for. She is an American and she wanted this with rice and did she enjoy eating it up! We used MrsDash instead of salt, & increased the amount of onions. Other than that we followed the recipe to a T. This resident was so happy and it was our pleasure to make it! Thank you for sharing, Diane :)
Combine all coating ingredients (except butter.
Dip chicken into melted butter.
Coat chicken with crumb mixture.
Reserve remaining crumbs.
Put chicken in 9 X 13 pans.
Put onions on top of chicken and around pan.
Sprinkle remaining crumb mixture over onions.
Drizzle w/remaining butter.
Bake at 350 for 30 minutes or until chicken is cooked thoroughly.
To make sauce:.
Melt butter in pan.
Stir in flour (stir for a little bit).
add sour cream, green onion and pepper and stir for one or two more minutes.
If sauce is too thick, add a little milk.
Pour over cooked chicken and save some for mashed potatos!
Enjoy!