Sour Cream and Ground Beef Layered Casserole
Pricilla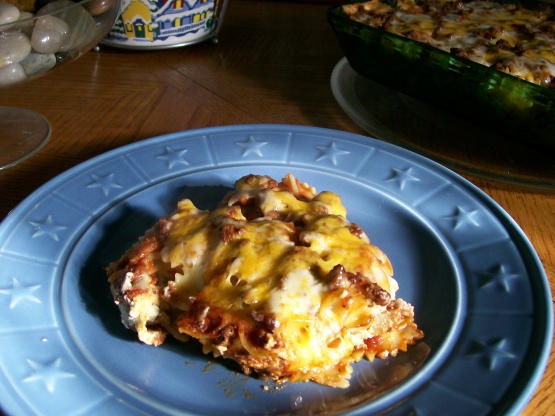 This is a great casserole that I have been making for years, it's one of my family's favorite dishes. Feel free to adjust all ingredient amounts to suit taste. I usually season the ground beef/onion mixture with seasoned salt and add in some cayenne pepper for heat but that is optional.
This was AMAZING. The only thing I did different was I added a 15oz can of Italian style diced tomatoes. Definitely adding to our casserole rotation!
Set oven to 350°F.
Grease a 13 x 9-inch baking pan.
In a large skillet, cook the ground beef with onion, garlic and chili flakes (if using) over medium heat until meat is browned and no longer pink; drain fat then stir in the Parmesan cheese.
Add tomato sauce and sugar; bring mixture to a boil; cover, reduce heat and simmer for about 30 minutes stirring occasionally (season with salt and pepper about halfway through of cooking time).
Transfer meat mixture to a greased baking dish; set aside.
In a bowl beat cream cheese and sour cream at low speed until smooth.
Add in green onions then stir to combine.
Spread the cream cheese mixture over the ground beef in the dish.
Top with cooked noodles, then sprinkle the shredded cheddar cheese over the noodles.
Sprinkle with paprika.
Bake for 25-30 minutes or until hot and bubbly.