Rita1652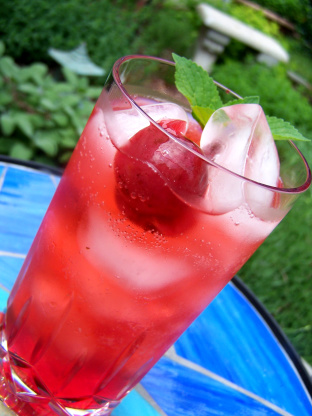 Pour in about a half inch of syrup into a tall glass, and add lots of ice cubes and seltzer or club soda. You might even prefer water instead. Iranis add a sprig of fresh mint and a sour cherry to the glass as well.

We found a sour cherry tree in our hood literally brimming with cherries... and I tried this recipe as a way to use some of them up--doubled the recipe and canned it using a water bath for 10 minutes per load of pint jars. We just popped open a jar and made sour cherry fizzes with some pellegrino. Delicious! And I'm super-glad I canned some for consumption throughout the summer. Thanks for sharing!!
Puree the cherries in a blender or food processor in small batches. Run juice through a fine sieve, pressing hard to extract all the juice.
In a large saucepan, mix cherry juice with sugar, water and lime juice and bring to a boil, stirring consistently, until sugar dissolves.
Cook over moderate heat for 10 minutes, skimming off the foam that rises to the top with a slotted spoon.
Reduce the heat and simmer, stirring and skimming, until syrupy, about 1 hour.
Strain the syrup into jars and let cool completely before storing.