sheepdoc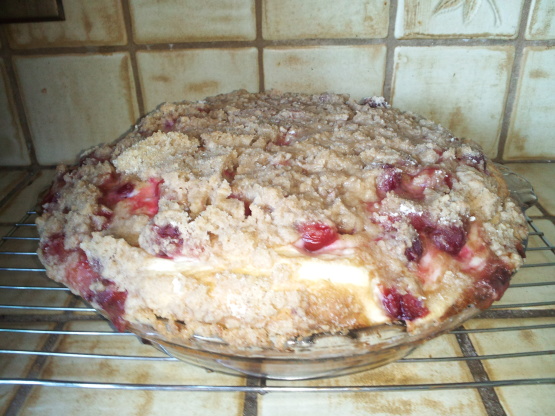 This is a great yeast coffeecake that I like to make during cherry season. Sometimes I use sweet cherries in place of the sour ones, depending on what's available at the time. Original recipe by Beth Hensperger. NOTES: 1. do not preheat oven, 2. times do not include time to make dough in bread machine, since bread machines vary (my dough cycle takes 1 hour 30 minutes), 3. cooking time includes cooling time

Really loved the topping but did not care for the bread on the bottom. There was too much bread on the bottom. Maybe I should have used a large pan ... I would like to make this as a pizza.
In a small bowl, whisk together all ingredients for cherry layer EXCEPT cherries. Cover and refrigerate.
In another small bowl, combine flour, sugar, and cinnamon for topping. Cut in butter until mixture becomes coarse crumbs. Cover and refrigerate.
Place all ingredients for dough in bread machine pan in the order recommended by the manufacturer. Program for dough cycle and start.
Just before dough is complete, grease a 9-inch square baking pan or a 10-inch pie plate.
Once dough is complete (it will be quite soft and sticky), scrape dough into prepared pan. Dust hands with flour and press dough into pan evenly.
Carefully spread sour cream mixture over dough, then distribute cherries over sour cream. Sprinkle crumb topping evenly over cherries.
Place pan on rack in center of cold oven. Turn oven on to 375 degrees F, and bake until edges turn golden brown and a toothpick inserted in the middle comes out clean (approximately 35 minutes).
Remove from oven and allow to cool on a wire rack for about 20 minutes. Serve warm.
MORE NOTES: this coffeecake freezes well. Place in refrigerator overnight or on countertop, unwrapped. Reheat for 12 minutes in a 300 degree F oven.