Souper Spice Sweet Potato Cake
Prep 10 mins
Cook 45 mins

This recipe came from a community cookbook put together by some students to raise money for a field trip in the 70's. I found some really great tried-and-true, home tested recipes. There was drips and food and stuff all over those pages, as my grandmother used it for a lot of her dishes.
Directions
Preheat the oven to 350 degrees. Grease and flour a tube pan (Angel food cake pan).
In a large bowl, combine the dry ingredients, soup, and shortening. Mix for 2 minutes or until completely blended.
Add the eggs and syrup and mix 2 minutes more. Fold in the potatoes and nuts.
Turn into the pan and bake about 45 minutes to an hour, or until a toothpick comes out clean.
Cool on a wire rack in the pan for 10 minutes. Remove from the pan and cool completely. Serve with powdered sugar glaze or sweetened whipped cream.
NOTE: The cake can also be baked in a 9x13 pan or loaf pans. Just adjust the bake time. I've never subbed the pans, so I'm not sure about cook-time.
Most Helpful
What a wonderfully moist cake! I've thought about making a sweet potato cake for a while, but wasn't sure what to expect, so put it off. I'm so glad I finally got round to it; this cake is lovely and spicy and the sweet potato adds the most amazing earthy sweetness. Just beautiful!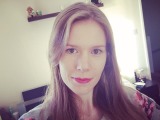 wonderful moist cake. very easy to make. i love the fact that it uses self rising flour, lazy me. the tomato soup and sweet potatoes really add depth and flavor to the cake. a definite keeper.

Wonderful addition to my favorite recipes and a huge hit with everyone. I frost it with homemade cream cheese frosting and it is fantastic!