Boomette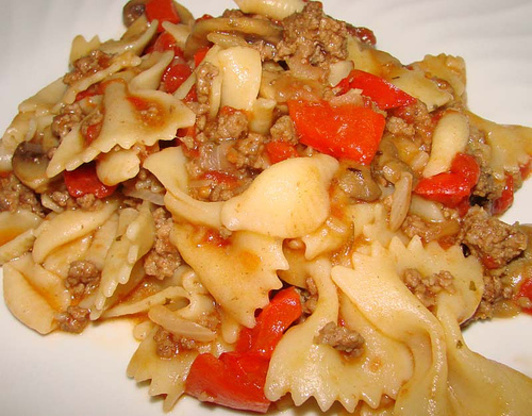 This is a quick and easy throw together that is quite tasty.

Top Review by Beeks
I went to my boyfriend's for lunch on my lunch hour from work and being the non cook that he is ;he didn't have much in his fridge or pantry. I remembered looking at your recipe and decided to try it. Of course he had to run to the store to go get the soup and the noodles. I left out the oregano couldn't remember how much water to add but I winged it. It turned out really well. I liked the taste combination of the tomatoes and the soup mix. This was a really simple, fast and delicious meal. Next time I'll add the oregano and I'm sure it will taste ever better.
In large frypan, brown ground beef;drain;add onion soup mix,oregano,tomatoes,and water.
Bring to a boil,stir in macaroni.
simmer covered,stirring occasionally for 20 minutes or until macaroni is tender.
Stir in parmesan cheese and top with grated mozzarella.