Bergy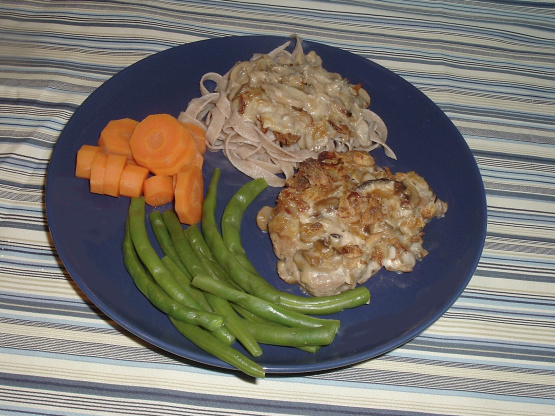 My kids really like these made with the tomato soup but it can be made with cream of mushroom soup too. These are pretty simple to make and the chops come out really tender. I usually serve these with rice.

Top Review by Bergy
I can never figure out why some people dis using soup as the sauce, There are times where soup is perfect. This recipe will make a believer out of the most opposed. I have often made chops with mushroom soup but the addition of the fried onion flakes and Oregano make all the difference. I did not add sour cream nor milk but otherwise followed the recipe. Thanks Kellie in SLO for a super easy tasty recipe
6

pork chops (cut 1/2-3/4 inches thick)

1

(10 3/4 ounce) can tomato soup or 1 (10 3/4 ounce) can cream of mushroom soup
1⁄2 cup water
1⁄2 teaspoon oregano (or 1/2 tsp thyme if using mushroom soup)

1

(3 ounce) can French-fried onions, divided

1

(8 ounce) container sour cream
Preheat oven to 350 degrees.
Brown pork chops and arrange in a 9x13 pan.
In a pan over low heat mix together the soup, water and oregano.
Remove from heat.
Stir in 1/2 of the can the french fried onions and the sour cream.
Pour over the pork chops in the pan.
Cover with foil and bake for 1 hour or until pork chops are tender.
Remove the foil and sprinkle the rest of the french fried onions over the chops.
Bake 5 minutes longer.