ImPat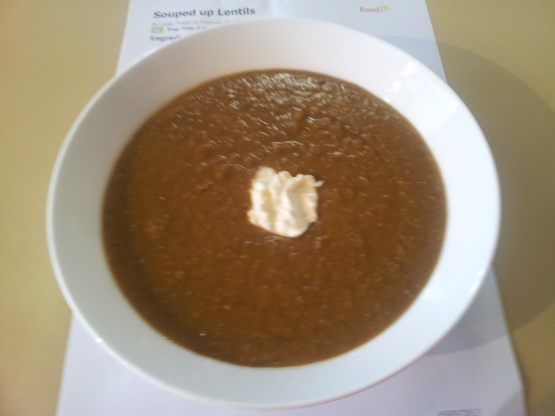 This is for lentil lovers. When I saw the RSC#9 ingredients, I knew I had to come up with a recipe for lentil soup or dahl. This is a bit of both -- a thick-ish lentil soup or a watery dahl. It is very quick and easy to make, and very warming on a wintry day. Use vegetable stock to make it a completely vegetarian dish.------

Top Review by Mandy
I actually made this for my 9 month old.. I used zucchini instead of carrot and used more water than stock to cut down on the sodium for him. I left out the vermicilli but thickened it up with a bit of baby rice cereal. He devoured it and I thought it tasted pretty good too. Thanks for posting!
1

cup red lentil, picked over and rinsed

4

cups chicken stock or 4 cups vegetable stock

1

cup water
1⁄2 medium white onion, minced

1

medium white potato, peeled and grated (or diced finely)

1

medium carrot, peeled and grated (or diced finely)

1

garlic clove, crushed
1⁄4 teaspoon turmeric
1⁄4-1 teaspoon salt (depends on your taste and the saltiness of the stock, add 1/4 teaspoon at a time)
1⁄4-1⁄2 teaspoon black pepper, coarsely ground (depends on your taste)

1

ounce thin rice noodles, broken into pieces (vermicelli)

4

tablespoons sour cream
Put all but the last three ingredients in a large saucepan, stir well and bring to a boil.
After 3-4 minutes on the boil, lower heat to a fast simmer.
Cook for 20-25 minutes, stirring occasionally. Spoon off and discard any scum on the surface.
Add the vermicelli and cook for a further 10 minutes. Stir frequently.
If you like, you can buzz this up in the food processor, but it's really not necessary.
Ladle into bowls and top with sour cream, cilantro (if desired) and more black pepper (if desired).