Soupe Au Pistou - Provençal Vegetable Soup
Jostlori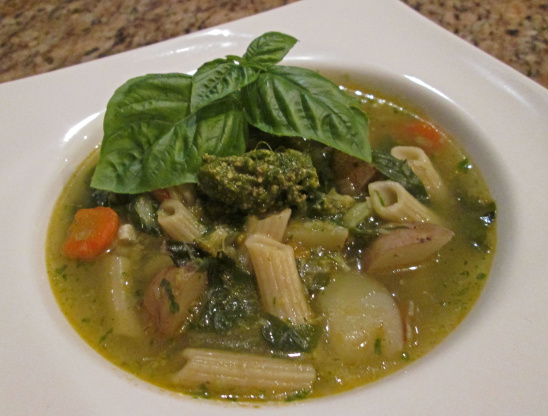 Full of summer garden vegetables this soup uses a pistou (basil-and-parsley sauce) for nice herbal flavor. It sounds like any mix of fresh garden veggies would work with the pistou - perfect for the random small handfuls of veggies that come out of a small garden. From Epicurious by Ruth Cousino

This is kind of like a French version of Minestrone Soup. Very, very good!!
For soup

1

large leek, washed and thinly sliced (2 cups)

1

celery rib, sliced

1

large carrot, sliced thinly

1

garlic clove, finely chopped

1

large thyme, sprig

2

tablespoons extra-virgin olive oil
1⁄2 lb boiling potato, diced
1⁄2 lb swiss chard, coarsely chopped

8

cups water
1⁄2 lb zucchini, cut into 1/2-inch pieces
1⁄4 lb green beans, trimmed and cut into 1-inch pieces
3⁄4 cup medium pasta shell

For pistou

1

small tomatoes

1

cup packed basil leaves
1⁄2 cup packed flat leaf parsley

2

garlic cloves, finely chopped

2

tablespoons extra-virgin olive oil

1

cup coarsely grated swiss cheese (about 1/2 lb)
Wash and slice the vegetables. Cook leek, celery, carrot, garlic, and thyme sprig in oil with 1/2 teaspoon salt and 1/4 teaspoon pepper in a 5-to 6-quart heavy pot over medium heat, stirring occasionally, until vegetables brown and stick to bottom of pot, 10 to 15 minutes.
Add potatoes and chard stems with 1/2 teaspoon salt and cook, stirring occasionally, until beginning to soften, about 5 minutes. Add water and bring to a boil, stirring and scraping up brown bits.
Stir in zucchini, green beans, pasta, chard leaves, and 1/4 tsp salt and simmer, uncovered, until pasta is al dente and vegetables are tender, about 10 minutes. Discard thyme sprig.
Meanwhile make pistou:.
Heat a dry small skillet (not nonstick) over medium heat until hot, then char tomato on all sides. Core tomato, then purée with basil, parsley, and garlic in a food processor. Add oil and cheese and blend well.
Remove soup from heat and stir in half of pistou and salt and pepper to taste. Serve soup with remaining pistou, and crispy toasted bread.