Diana 2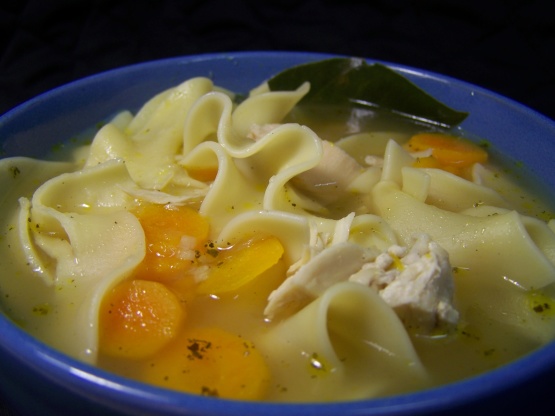 This recipe is great to use up the odds and ends of leftover pasta.

This was so very good and so very easy to make!!! Definitely healthier than canned soup...I have a feeling this will be our new go to soup recipe! I didn't see sage in the ingredient list so we added just a couple sprinkles; the only other change we made was to use some leftover chicken breasts that we boiled in pepper and poultry seasoning. Made for your Week 16 Football Pool win...congrats!!!
In a large saucepan bring chicken broth and water to a boil.
Add bay leaves, onions, carrot and garlic.
Reduce heat and simmer uncovered 10 minutes.
In a skillet cook and stir chicken in hot oil for 3 minutes or until cooked through.
Add chicken, pastas, and sage to soup.
Simmer, uncovered for 8 to 10 minutes or until larger pieces of pasta are tender but slightly firm.
Remove the bay leaves.