Soup of Two Mushrooms and Barley
PaulaG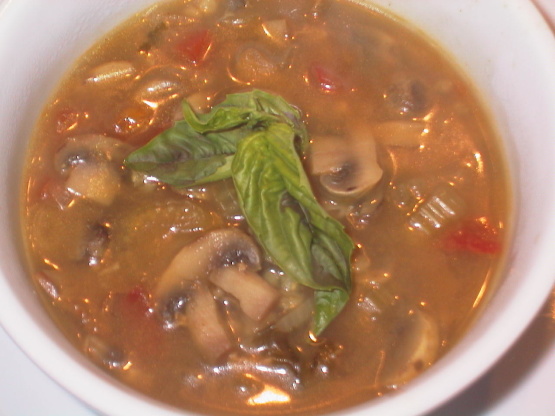 This hearty and satisfying soup makes a perfect autumn or winter meal with a loaf of crusty bread.

Simply delcious! I couldn't find porcini mushrooms so used an exotic mix of shitake, porcini, chantrelle, and oyster mushrooms. I also didn't have fresh tomatoes so used home canned ones. No celery, so used some leftover water chestnuts which gave a nice crunch. I will definately make this again, just wonderful. Thank you FlemishMinx!
Put dried porcini mushrooms in a bowl and cover with very hot water; soak until they are soft (about 10 minutes), then drain.
Heat oil in a large pot; cook onion, celery, garlic, and both mushrooms about 8 minutes, until they are soft.
Stir in barley and cook one minute.
Add tomatoes, and stock.
Bring to boil, then reduce heat and cover.
Simmer 20 to 30 minutes, until the barley is tender.
Stir in dill and cayenne pepper; season with salt and black pepper to taste (I find this requires a good deal of salt, but will depend on your stock).
Serve.