Soup in a Pumpkin (Vegan)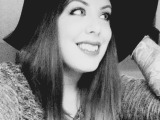 From the In Search of the Lost Taste cookbook. Perfect for Halloween.
Directions
Cut open the pumpkin like you're making a jack o'lantern. Remove seeds and pulp.
Rub with oil and sprinkle with salt.
Bake at 400 degrees for 25 minutes with the lid on.
Meanwhile, simmer the other ingredients (except pumpkin seeds and a few teaspoons of the herbs) for a few minutes, set aside.
Remove pumpkin, fill with the soup mixture and bake at 375 degrees for an hour in a round casserole.
Use a foil cap instead of the pumpkin top to bake this.
Remove from oven, take off the foil and sprinkle with pumpkin seeds, herbs and a little paprika.
Serve soon, with the pumpkin top on when you bring it to the table.
Most Helpful
I thought this was really good! I've made it a couple of times, and good cooked in a pumpkin (or two), but I did not do that yesterday (but it makes it better). Instead, I added an acorn squash - 1/2 pureed and 1/2 of it roasted. I think you can add more squash if you want, and butternut would be good to try. SInce I did not cook in the pumpkin, I just cooked it all on the stove.<br/><br/>Other modifications:<br/>Add 1 lb chicken breast (I'm not a vegetarian)<br/>Add 2-3 celery stalks, chopped<br/>Omit the dill<br/>Dried herbs are fine if you don't have fresh, but they make things better!<br/>I used chicken bone broth i/o veg broth<br/>I added a whole can of coconut milk (which is ~2c)