teresas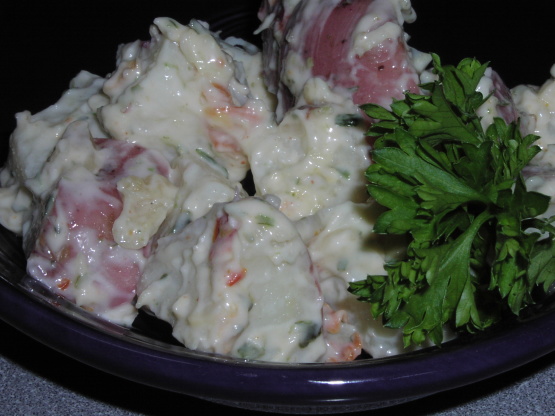 This is a tried and true Weight Watchers favorite. 4 points per serving.

Great WW recipe! Went together with ease. The vegetable soup mix (I used Knorr's) really kicked it up a notch. I cut this down to serve 2 peoples. I have enough of the soup mix to make 3 more times. I will be adding cerley, onions and some pickles next time. Made for PAC Fall 07'. Thanks, AshK for posting.
Cut potatoes into 1/2" chunks, leaving the skin on.
Place potatoes in 4-quart saucepan, cover with lightly salted water, and bring to a boil.
Simmer for 10-12 minutes until potatoes are tender.
Drain and let cool.
While the potatoes are cooking, combine mayonnaise, soup mix and vinegar in a large bowl.
Add cooled potatoes to mayonnaise mixture and toss to coat.
Refrigerate covered until chilled.