Sorbets De Pommes Calvados (Apple Sherbet W/Calvados)
Rita1652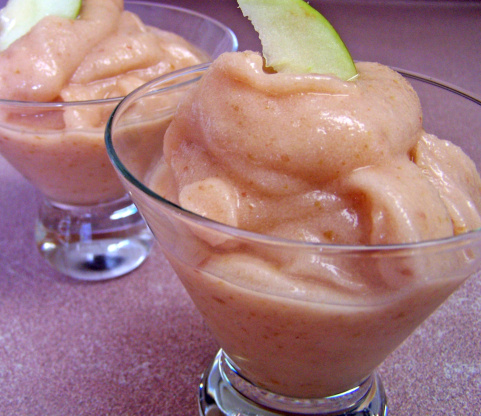 Calvados, the extraordinary apple brandy of Normandy, gives this sorbet a special bite. This can be made in an ice cream machine or in your freezer--there are instructions for both ways.

So good and easy! I cut the sugar and water in 1/2! Used a mix of granny and red apples. Add a touch of cinnamon and used 1/3 cup apple liquor. After cooking I blended, froze then placed liquour in the Vita mix blender added the frozen mixture which was easy to break into pieces. Then blended till smooth. Scooped into short martini glasses and enjoyed. Enjoy A lot!!!! Thanks!
In a saucepan, bring the sugar and 2 cups of water to a boil.
Add the apples, lemon zest and lemon juice.
Simmer for 45 minutes over low heat, or until the apples are tender.
Remove from heat and cool completely.
When cooled, puree the mixture in a blender of food processor or, my preference, with an immersion blender.
Add the Calvados.
If you are using an ice cream maker, first chill the mixture for at least three hours. Then, pour into your machine and process for 30 to 40 minutes, or until creamy.
Freeze until ready to serve.
If you are using your freezer, Place the mixture in the freezer.
As soon as it begins to freeze, take it out and beat the mixture vigorously by hand for 1 minute.
Return to the freezer and repeat the process one or two more times at thirty minute intervals.
Keep frozen until ready to use.