Sorbet -- No Ice Cream Maker Needed!
Recipe source: Prevention (March 2010)
Directions
Put everything in your food processor and puree until creamy, you may need to add a bit of water (1 tablespoon at a time).
Serve immediately or freeze.
***If you freeze this you may need to allow the sorbet to thaw for 10-15 minutes at room temp before serving.***.
Most Helpful
Oh my gosh! Fabulous!!! Easy!!!! Delicious!!! I can't believe that something this simple tasted so wonderful! I made it with strawberries and regular sugar. Next time I'll try it with Splenda and compare. We all LOVED this for our dessert last night. Simple and pretty healthy, too! I ended up adding about 4 T. of water (1 at a time) so mine would blend up completely. (It may be that my food processor blade is getting dull.) Thanks for such a gem of a recipe!!!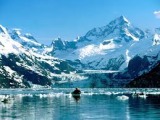 Very good and so easy. One thing that I did learn is that you do need to use a food processor instead of a blender. I started with the blender as my food processor isn't very big. Made with frozen raspberries and used Splenda instead of sugar. Will make this again. Made for Newest Zaar Tag.

What an easy and delicious recipe! I used local peaches that were frozen at their peak and vegan vanilla coconut milk yogurt so my vegan daughter could have some. Thanks for a yummy recipe!