Calee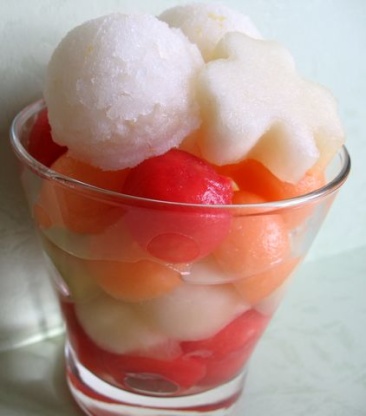 Sweet sparkling wine such as Asti Spumante brings effervescence to this colorful dessert.

Top Review by Calee
Outstanding colorful parfait. All the things I love fruit, lemon sorbet and asti spumate I couldnt find any lemon sorbet so I made some, the sorbet had lemon zest and I found it enhanced the fruit so much and seemed to balance the sweetness of the asti spumante. Not only great for everyday but for a special event as well! Thanks Annacia.
177.44

ml chilled seeded watermelon balls

177.44

ml chilled seeded cantaloupe melon ball

177.44

ml chilled seeded honeydew balls

236.59

ml lemon sorbet (or mango sorbet)

118.29

ml sweet sparkling wine, chilled
mint sprig (optional)
Arrange melon balls among four wine glasses or goblets.
Scoop about 1/4 cup sorbet atop melon.
Pour about 2 tablespoons sparkling wine over sorbet and melon.
If desired, garnish with mint sprigs. S.
Serve immediately.
Food exchanges: 1/2 fruit.