ladypit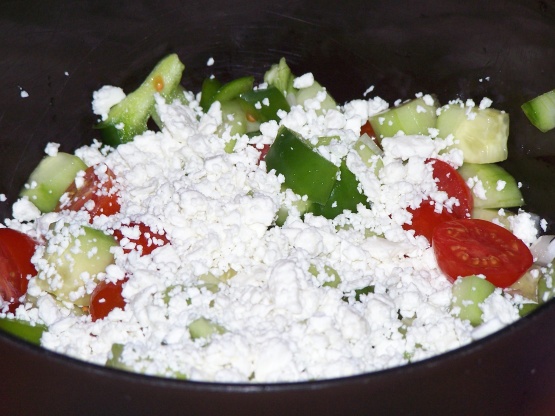 Pronounced "shopsky", this simple salad may remind you of Greek salad. You can find sopsky salad in every pub, resto and diner in Prague, Czech Republic. The feta prevents the sopsky from being dry, so you don't need any dressing.

I like this salad because it is tasty, simple to make, and calls for few ingredients. I wasn't familiar with it, however, until my husband and I recently spent 4 weeks in the Czech Republic. Now we have it for lunch about 6 times a week. Several of the Sopsky salads that were served to us in the C.R. came with a small amount of what tasted like a vinegar/sugar solution in the the bottom of their bowls. I liked this addition, so I have added it to my Sopsky salads. Put some granulated sugar into a small bowl, or use a sugar subsitute such as Splenda. Then I add a small amount of white vinegar. Stir until the sugar is dissolved. I generally use only one half of a green pepper (chopped), 2 Roma tomatoes (chopped)and 1/2 to 1/3 of a cucumber (partly skinned & chopped)for the two of us, putting them into the vinegar/sugar solution as they are cut up. Adding a small amount of water (not too much)to cut the acid of the vinegar and the sweetness of the sugar is optional. Depends upon whether you like the tart-sweetness of the vinegar/sugar solution. When I serve the salad, I crumble Feta cheese over the top of the vegetables and spoon the vinegar/sugar solution over them. Joje
Chop all vegetables into cube-like pieces.
Shred or crumble the feta over top.
For an authentic Czech meal, serve with a goulash and potato pancakes.