Soprano's Pork Chops with Vinegar Peppers
ms.susan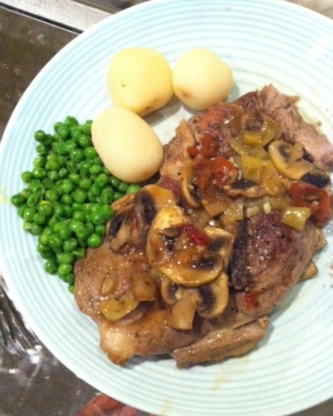 You guessed it-this recipe is from the Soprano's Family Cookbook. I found it on the net and had to share.
1

tablespoon olive oil

4

pork chops, 1 inch thick
salt & fresh ground pepper

2

cloves garlic, minced

2

cups sliced mild pickled peppers (plus 2 T. juice)

3 -5

hot pepperoncini peppers (optional)
Heat the oil in a large skillet over medium high heat.
When hot, pat chops dry, sprinkle with salt and pepper and add to skillet.
Cook chops, turning once for about 5 minutes on each side, or until brown.
Lower the heat to medium and scatter garlic around chops.
Cover and cook 5 to 8 minutes more.
Check for doneness.
Remove to a plate and keep warm.
Add the peppers and juice to the skillet.
Cook, stirring for 1-2 minutes or until the peppers are heated through.
Spoon the peppers over chops and serve immediately.