Derf2440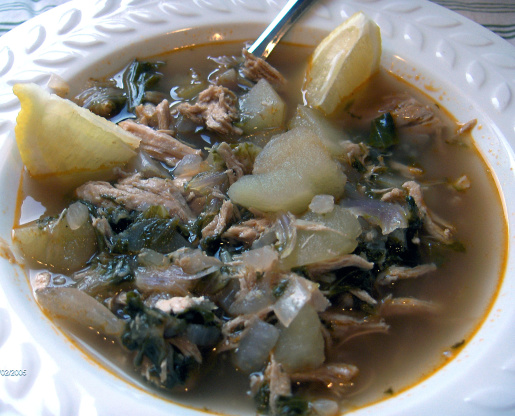 This is a delicious kale and chicken soup with plenty of garlic, white wine and that light, distinctive Portuguese flavor of cloves. In Portugal, "caldo" is generally a lighter soup, and "sopa" is a soup with more vegetables and meat, and is often thickened slightly by using potato cooking water, as this one is.

This is healthy and nicely spiced. I have looked at a lot of other kale and potato soup recipes, but hesitated as they usually call for sausage, of which I'm not a big fan. I thought using chicken and adding the spices to the broth seemed like a good idea - but the chicken acquired a stringy texture that left something to be desired. Maybe I'll try sausage after all. It didn't say how many cloves to use. I used three. I cut the ends off and peeled the whole onion called for and stuck the cloves in that.
In a large soup pot, bring to a boil the 8 cups of water, the chicken breast, onion, and cloves; skim off any foam.
After 10 minutes, add the potatoes and simmer for another 25 minutes.
Reserve the broth.
Discard the onion and cloves.
Transfer the potatoes and chicken to a plate to cool; when cool enough to handle, cube the potatoes and shred the chicken.
In a small saucepan, saute the 1 cup chopped onion and the garlic in the olive oil until tender but not browned.
Transfer this into the reserved chicken broth, along with the kale, white wine, coriander, paprika, and cayenne pepper.
Add the chicken (still reserving the potatoes) and salt and bring to a boil.
Reduce heat and simmer, covered, for about 1-1/2 hours.
Add reserved potatoes and simmer another 1/2 hour, uncovered.
Correct seasoning if you wish, and just before serving, stir in the fresh lemon juice.