Sopa De Zanahoria -- Carrot and Cheese Soup (Paraguay)
Parsley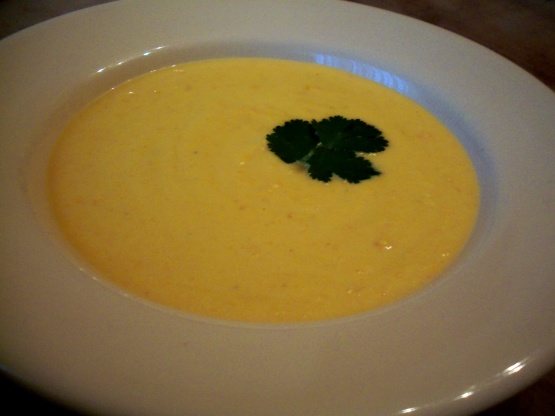 This recipe comes from the 2003 cookbook, The South American Table.

Top Review by Julie
Very good with simple ingredients. I used a Mexican Cheddar blend as that is all I had. It was maybe a little too "buttery" for my taste. But quick, easy and something different on a snowy day. Plus, we had friends from Paraguay visiting so this fit the bill. Thank you. :)
In a 2-quart saucepan, melt the butter over medium heat, then add the carrots & cook, stirring, until they are covered with the butter.
Add salt, sugar & hot water, then bring to a boil, cover, reduce heat to low, & cook until soft, about 20 minutes.
Drain, reserving the cooking liquid, then transfer the carrots to a blender & process until smooth, adding a little of the cooking liquid.
Return to the saucepan with the remaining liquid & bring to a boil, then reduce heat to low & stir in the cheese, while simmering until the cheese melts ~ The texture should be like that of heavy cream.
Add additional salt, pepper or sugar as needed, then serve.