Sopa De Papas (Potato Soup)
Junebug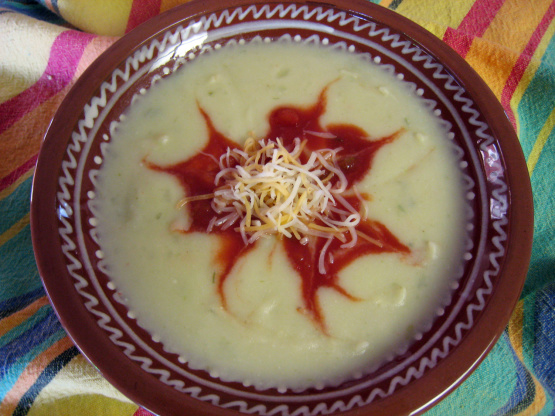 This soup can be served hot as a traditional soup, but I also love it served cold for lunch on a hot day. It's mild - not spicy at all, but with lots of flavor.

This was delicious! I didnt have any taco sauce, so used salsa instead. Also, didnt have any sour cream so just added extra milk. Thanks for sharing!
In pan large enough to hold all ingredients, saute onions and celery in butter for 5 minutes.
Add potatoes, water and bouillon. Heat to boiling.
Simmer, covered, for 30 minutes.
Place 1/2 potato and liquid mixture in blender, cover and process on low just until smooth.
Pour into serving bowl and repeat with remaining potato and liquid mixture.
Whisk in remaining ingredients, except taco sauce, until smooth. serve warm or chill 2 hours before serving.
Garnish with taco sauce.