Maito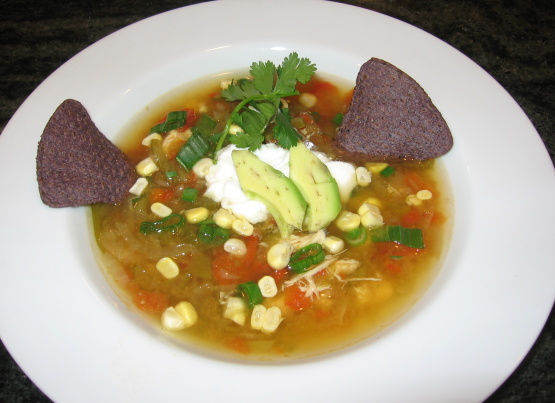 This is a very tasty soup. I love the lime and garnishes!

I have made this 4 times. It is my new favorite soup! I use 4-5 large chicken breasts. I also add the cumin. The recipe is so easy, now that I have done it a few times I can do w/o looking at the recipe. My favorite part is the fresh toppings, it makes the soup. Great for big get togethers...double recipe and make a bar w/the toppings. YUMMY!!!
453.59

g boneless skinless chicken breast, poached and shredded

29.58

ml olive oil

1

medium yellow onion, finely diced

3

fresh garlic cloves, minced

2

poblano chiles, roasted peeled seeded and finely diced or 2 (226.79 g) candiced mild green chilies

2

tomatoes, seeded and finely diced or 425.24 g can diced tomatoes

2.46

ml ground oregano

2.46

ml ground thyme

4.92

ml salt (to taste)

2.46

ml ground black pepper (to taste)

1892.0

ml chicken broth

59.14

ml lime juice, freshly squeezed

1

avocado, peeled pitted and sliced

1

serrano chili pepper, finely diced

8

corn tortillas, cut into thin strips deep fried and drained on paper towels or 8 corn tortilla strips

1

lime, cut into wheels

118.29

ml fresh cilantro, chopped
Cook and shred chicken. Set aside.
Pour olive oil into a large pot and heat over medium high heat until hot. Add the onion and saute for 4 minutes. Add the garlic and saute for another minute or until onions are translucent.
Add the poblano chiles, tomatoes, spices and chicken broth. Stir and simmer for 15 minutes.
Add the shredded chicken and lime juice and simmer for 10 minutes.
Garnish each serving of soup with the avocado slices, diced serrano chile, tortilla strips, lime wheels, and cilantro. Also good with sour cream.