Sopa De Elote (Mexican Corn Soup)
loof751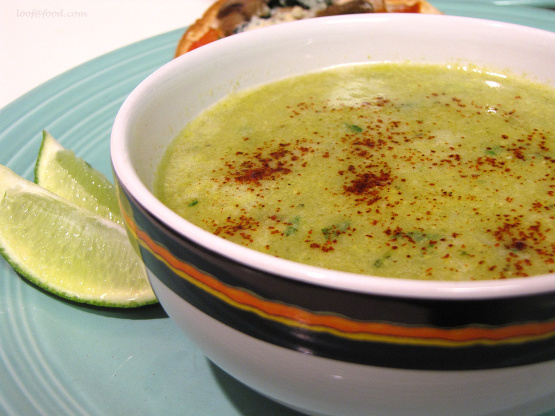 Posted from a Sparkpeople challenge for healthy recipes. I've made this but not recently. About time since corn is in season again! From: Steven Raichlen's Healthy Latin Cooking Epazote- I haven't had this and it turned out OK. Other names for it: Pigweed, wormseed, lamb's quarters, goosefoot and Jerusalem oak. He claims there is no substitute but I'm guessing thyme or oregano would work.

This is a great and tasty soup! Love the roasting of the poblano, onion and garlic - I think it really added a lot to the flavor. I used Mexican oregano instead of the epazote. The chili powder (mine was hot) and squeeze of lime were a great finishing touch for the soup. Thanks for sharing the recipe!
Place a comal (Mexican griddle used for cooking tortillas) or a cast iron skillet over medium-high heat. Add the pepper, onions and garlic. Roast turning occasionally, until nicely browned.
As they brown, transfer to a plate to cool. The garlic will take 3-4 minutes and the pepper and onions will take 6-8 minutes.
Using plastic gloves, scrape as much skin off the pepper as you can.
Finely chop the pepper, onions and garlic.
In a large saucepan over medium heat, combine the peppers, onions, garlic, corn 2 sprigs of epazote, the bay leaf and stock or broth. Bring to a simmer.
Reduce the heat to medium-low and gently simmer for 8-10 minutes, or until the corn is soft. Remove and discard the bay leaf.
Puree the soup in a blender; return it to the pan. Stir in the cilantro and cook for 1 minute. Season with salt and pepper.
Ladle the soup into serving bowls and garnish each with a sprig or sprinkling of epazote and a sprinkling of chili powder.
Serve each with a lime wedge for squeezing into the soup.