Sopa De Elote (Fresh Corn Soup)
IngridH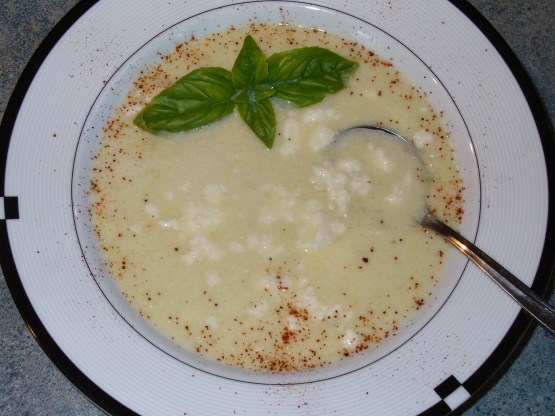 From The New Complete Book of Mexican Cooking, a cookbook sent to me in the Feb '09 cookbook swap by my partner, breezermom.

I love corn soup! I took a little bit of liberty with this recipe, and substituted queso fresco for the cream cheese, which I think was a great addition to the flavor. I also garnished with some fresh basil, and some ancho chile powder, both flavors that really enhance the corn. Although the recipe calls for straining the mixture before serving, I opted not to, and instead used a hand blender to puree it even more finely in the pan. I like the texture this way, and so did DH. He actually thought it should be a bit thicker, which I may accomplish next time by adding a little flour between steps one and two. My only issue, and it's a minor one, was the balance of flavor between the corn and the onion. I thought the onion was a little strong, so next time I think I'll either use a little less, or use a sweet onion instead of the plain yellow onion that I used this time. Overall, a very good recipe, that I will definately make again. This was very easy to make, and well suited to a light weeknight dinner. Made for ZWT5 by one of the Cooks with Dirty Faces.
Combine the corn kernals and the onion in a food processor and process to a puree. Heat the butter in a saucepan, add the puree and cook over moderate heat, stirring, for 5 minutes.
Stir in the chicken stock and season with salt if necessary.
Simmer, over low heat, for 10 minutes longer.
Stir in the sour cream and simmer for a few minutes longer.
When ready to serve, strain the soup. Have ready 4 soup bowls, each with a tablespoon of cheese and about 2 teaspoons chili, and pour the soup which should be the consistency of heavy cream.