ChefLee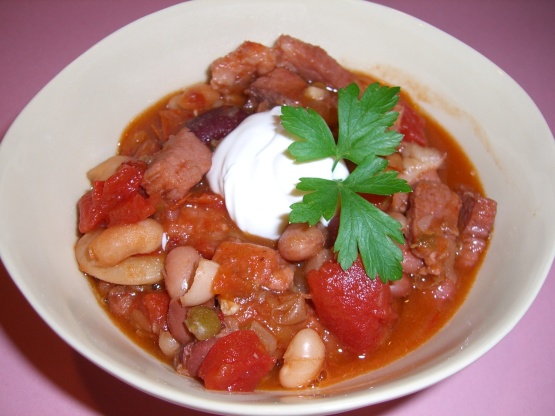 I love bean soup with ham and I thought I would give it a little kick!! Hopefully you can find the crushed chipotle flakes, they give it a smokey flavor that you can't get with just red pepper flakes. I have seen them in many stores such as Wal-Mart supercenter, Whole Foods, and more. Hope you like it!! (Prep time does not include overnight soaking of the beans)
Place your beans in a big bowl and cover with water 2 or 3 inches above them and soak overnight or for at least 8 hours.
Drain the beans and set them aside in a collander.
In a large soup pot, heat the olive oil on medium high heat.
Saute the onions and garlic with the lemon juice and crushed chipotle peppers until the onion is soft. (about 2 minutes).
Add the beans and water then stir.
Bring to a boil, add the ham, then reduce heat to a medium simmer.
Simmer for 1 hour, uncovered.
Add the tomatoes with their juice and break them up a little in the soup with a spoon.
Add the Ro-tel with its juice and the brown sugar. Stir, then turn heat down to a low simmer, uncovered, for 1 more hour or until beans are al dente to your taste.
Serve with sour cream (optional).