Soothing Colds and Coughs With Honey (3 in 1)
Rita1652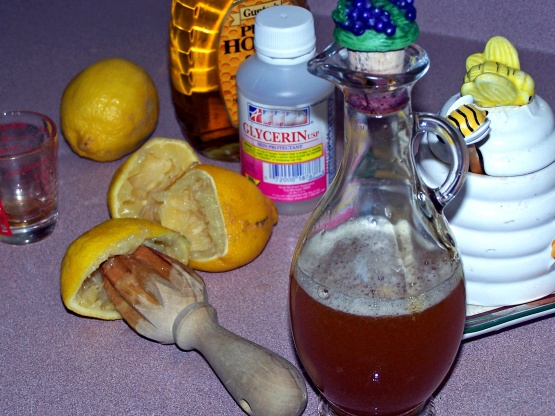 Honey is a soothing remedy for persistent coughs and sore throat. The strong antibiotic properties it contains coats the throat and reduces throat irritation. Uneasiness felt in the mouth & throat due to infection can be relieved immediately with honey. Honey's unique composition makes it an effective antimicrobial agent, useful for treating minor burns and scrapes, and for aiding the treatment of sore throats and other bacterial infections.

I've made this 2 times so far this winter. We've been so sick with colds - sore throats, coughs etc. My DH took it to work and said it works great for his cough. The sore throat works for about 1/2 hour, but there's no chemicals in there, so you can take as much as you want. I have to order more glycerin now. This is going into my book#234006. Thanks, Rita. Your health recipes are always awesome! :)
For cough

6

fluid ounces liquid honey

2

ounces glycerin

2

lemons, juice of

For Blocked noses

1

tablespoon honey

1

quart hot water

For Sore throats

1

teaspoon honey
For cough-- Mix honey, glycerin and lemon juice.
Bottle and cork firmly.
Use as needed.
For Blocked noses-- Place honey in a basin of hot water and inhale fumes after covering your head with a towel over the basin.
For Sore throats-- Let 1 teaspoon of honey melt in the back of the mouth and trickle down the throat.
This will ease inflamed raw tissues.