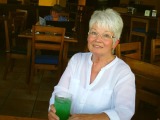 I got this recipe from Gail's Recipe Swap, posted by Michelle in CA. It's a wonderful chicken salad similar to Whole Foods Sonoma Chicken Salad.
Directions
Mix first 4 ingredients together in a bowl.
In a small bowl, mix the last ingredients together until smooth.
Add to the first bowl.
Chill for a least 2 hours.