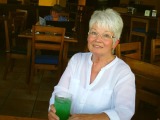 I got this recipe from Gail's Recipe Swap, posted by Michelle in CA. It's a wonderful chicken salad similar to Whole Foods Sonoma Chicken Salad.
Directions
Mix first 4 ingredients together in a bowl.
In a small bowl, mix the last ingredients together until smooth.
Add to the first bowl.
Chill for a least 2 hours.
Reviews
Most Helpful
My girlfrind Linda always makes this for her coffee house and it's a big hit. After I moved to another state I just had to have the recipe to ease my cravings ! She substitutes the grapes with crasins and it's to die for!
This recipe was delicious...I gave it 4 stars because I felt it needed just a little more "zip"...So, I added the juice of 1 fresh lemon, and also chopped up 2 granny smith apples and threw those into the dish as well. I served it over a bed of lettuce and it was great! Thank you for a wonderful recipe!