Ms B.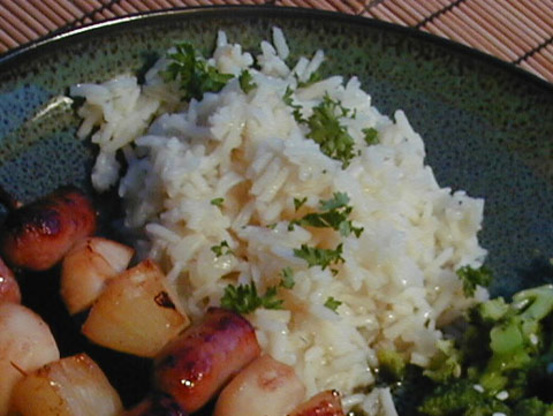 A solo side dish of moist, and flavorful rice. Substituting 1/4 teaspoon of your favorite curry powder in place of the garlic will give the rice a rich glow and a more subtle flavor. Cooking is a Creative Sport.

All in all, a good recipe. My only problem was that my rice was not completely cooked..it was still a little hard. Could be that my lid did not fit tightly enough as the recipe calls for. It was the perfect size serving for one, very simple to make, and I did eat every bit. It is very flavorful for the mimimal amount of ingredients. I will make it again and cook it a bit longer, maybe 20 minutes, to cook my rice. I'll keep it in my Zaar cookbook. Thanks!
2

tablespoons olive oil (optional)

1

clove garlic, diced
1⁄3 cup onion, diced
1⁄3 cup uncooked rice (, not instant)
2⁄3 cup chicken stock
Heat the olive oil in a small sauce pan that has a tight fitting cover.
Add garlic and onion, and stir until the onion becomes transparent, but stop before the garlic starts to turn brown.
Add rice and continue to sir until all the grains are coated in the olive oil.
Add the chicken stock, lower the heat to barely on, and cover with a tight fitting lid.
Keep pan over the low heat for exactly 15 minutes.
Remove from the heat but Do NOT peek, and let the pan sit for another 10 minutes.