Bergy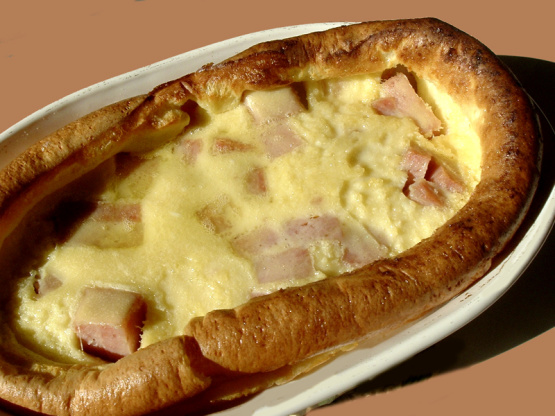 An easy breakfast dish using Spam and Eggs when you don't want to tend the stove.

This dish was very bland but it came out so beautiful and was so easy, that I won't give it three stars because I encourage everyone to try it. IT HAS HUGE POTENTIOL. I bake the recipe as directed in glass serving dishes (Fiestaware bowls) and sprinkled cheese on top. It's gorgeous. Unfortunately, not any flavor to it. I'm very excited to use this as a diving board and add some flavors and texture. I HIGHLY recommend frying the spam first, adding herbs, and increasing an egg or adding something else to increase moisture. Perhaps cottage cheese? In closing, my four picky eaters LIKED IT. ALOT. The next time I make this I am going to fry the spam first, add an extra egg, add chedder cheese to the batter, and add salt, garlic, onion, and mustard powder. Perhaps even a pinch of sage. If you keep SPAM on hand for food storage or emergency meals, I would definitely give this a try and create your own masterpiece.
Preheat oven to 400F; put the butter into a single serving oven proof dish and place in oven until the butter is melted.
Dice the Spam and mix with all the remaining ingredients, being sure to stir out most of the lumps.
Pour into the dish and bake for 20 minutes.