Solo Spam and Pineapple Casserole
lets.eat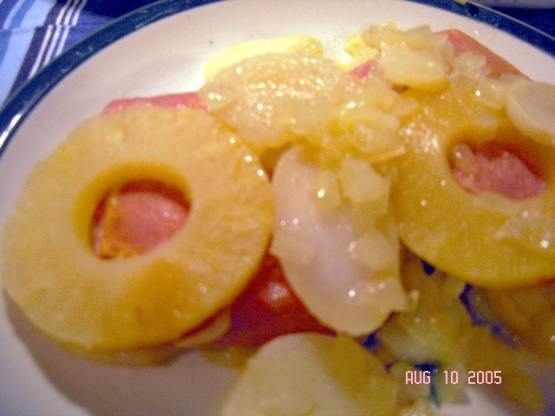 This solo meal can be easily expanded, and because it uses transportable ingredients, this one dish meal can be made in a rustic setting or even in a dutch oven over campfire coals. An adventuresome cook might also consider using a crockpot.

There was a topic in the Community Forum over Spam a short while ago, and it started make me hanker for some Gelantous Goo!. Didn't really care for this, didn't like the Spam steamed, it really shouldn't have been cooked covered as recommended, but than that method is desired in order to cook the potatoes. I would suggest the next person that makes this to add a mixture of brown sugar and spicy brown mustard spread it across the surface and than broil it after the potatoes are cooked(for we found it quite bland also). Wasn't stated but used unsweetened pineapple juice, perhaps heavy syrup would have made a bit of flavor burst> Thanks for posting Bill!
Slice a washed, but not peeled potato, and mix thoroughly with diced onion and olive oil in bottom of a one and a half casserole dish.
Follow with a layer of sliced Spam.
Top with the pineapple.
Mix mustard, pineapple juice and pepper in a small bowl and pour over the other ingredients.
Cover, bake in a 400 degree (f) oven for 50 minutes or until the pototo is tender.