Sole With Lemon and Capers - Bonnie Stern
Diana 2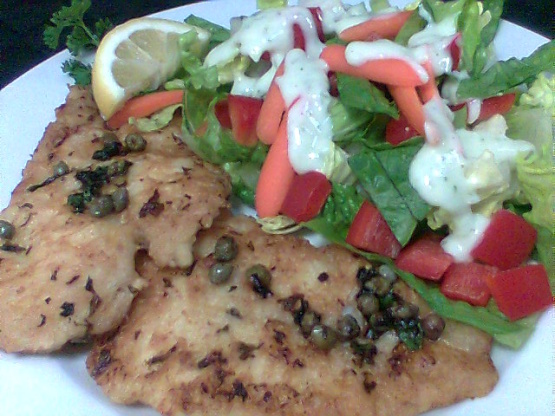 We had this for supper tonight, and I do believe this is the only way I'm going to prepare my fish from now on. I'm not even sure I can describe it any other way but to say "Out Of This World". This is so simple, it's hard to believe it delivers such flavour. I received this recipe in a Bonnie Stern newsletter. I don't think I've ever been disappointed in any recipe of hers I've tried. I hope you will agree. The salad dressing in the photo is from Loaded Salad With Yogurt Dressing. In preparing this recipe, I opted to use a mixture of olive oil and Parsley Butter for frying.

This fish recipe is delicious! I generally try not to bread and fry my fish, but this recipe didn't sound too heavy, so I tried it. So glad I did. I really enjoyed the capers in this. This is wonderful, and I'll definitely make it again. Thanks for sharing! Made for PAC 2011.
Rinse the fillets and pat dry. Lightly season with salt and pepper.
Dredge fillets in flour, then dip into the beaten egg. Re-dip into flour.
Heat oil in a large skillet and cook fish for about 3 minutes on each side. Remove to a plate and keep warm.
Drain any excess oil from the skillet. Return to the heat, adding the lemon juice and capers. Deglaze the pan while scraping any browned bits into the sauce.
Remove from heat and add the pepper and parsley. Pour over fillets and serve.