Sole Fish Layered Casserole
Kathy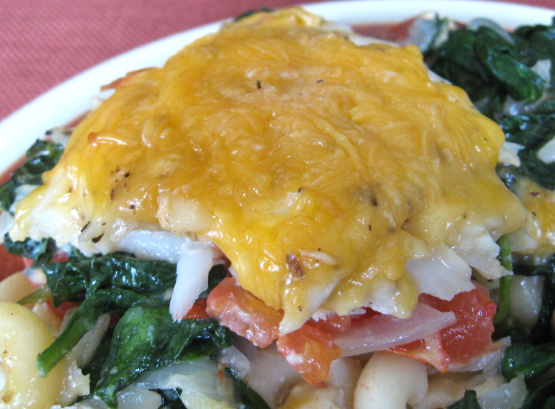 This dish turned out beautifully! The balance of tastes and textures was nicely done. I particularly liked that there wasn't a lot of pasta-just the right amount. I did not have sole, so I used tilapia and it was delicious(and less expensive). After reading the recipe and the other reviews, I did add some extra seasoning. I used lemon-pepper which went very well with both the spinach and the fish. I will admit that I added mushrooms because we love them and I had them on hand. All that being said, my hubby inhaled this! His idea of high praise for a dish is, "it's okay". He said this was "really good" and that I should definitely make it again. I definitely will! He also liked that he could taste all the different flavors of the ingredients and it wasn't just a mish-mash. Nice job on this one! Thanks!
Preheat oven to 400f degres.
Saute onions in oil until trasparent and slightly browned, add spinach and heat just until wilted.
Spray an 8 x 8 inch glass dish with veggie spray.
Place macaroni on bottom of dish to cover the bottom. Place slices of tomato in one layer over macaroni. Sprinkle salt and pepper to taste. Sprinkle 1/4 cup cheddar over tomatoes; Add onion and spinach mix and spread evenly over. Lay sole pieces in one layer over spinach mix. Season with salt and pepper to taste. Sprinkle the other quarter cup of cheddar cheese over top.
Bake for 30 minutes or until fish is cooked through and flaky.